Early on, i was thinking whether should i buy watercolour pencils or copic markers. The reasons i want watercolour are easier to use, create a soft colour and save a lot of money. As for copic markers are i have another 2 set of it (i just need another 2 sets to completed my collection), it blend very well when i do colouring ( especially when i made mistake- i can cover it. However, each of it has an consideration. for watercolour pencils, so far the art shop that i visited only sell max 72 colours and that one also different brand from what i have-faber castel so i have to get it from overseas if i really want to. As for copic, it is a marker type..so it doesnt last long like pencils.
HOWEVER..........
After a long thought and some consideration( actually only for one week) i have decided to use some of my money to buy copic ciao markers.
Yeah...and as usuall...=_= suppose to buy one set, end become 2 sets of it which means i completed my ciao markers collection....yay...but no more money to buy watercolour pencils anymore.. T_T

Here are the pics of the copic ciao that i bought this afternoon :
Ibought the B(Which is most of the card maker use) and D series.
So below is the photos of the complete sets of ciao markers that i have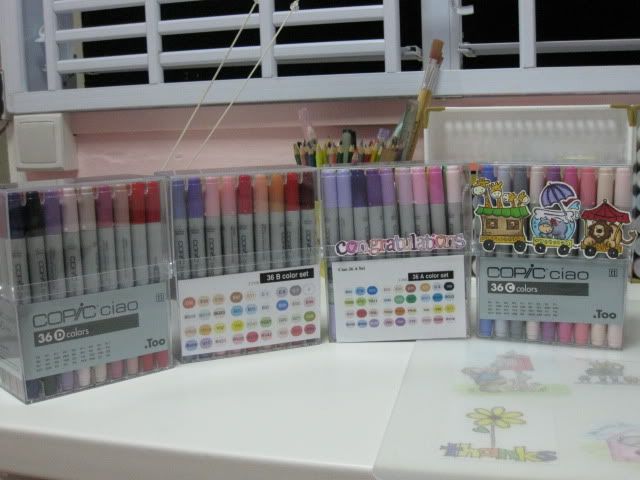 Cant wait to use it.... ^^v
Regards,
Scrapco